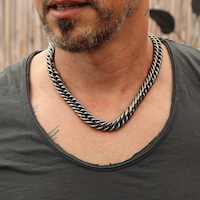 Title: Choosing the Perfect Jewelry for Men: A Comprehensive Guide
In today's fashion-forward society, jewelry has become a defining accessory in men's style. Selecting the right piece not only enhances one's look but also brings out a unique persona and style statement. However, choosing men's jewelry can be a challenging task given the broad range of options available. Here are some essential tips to help guide you through the process.
Firstly, consider the man's personal style and lifestyle. For a professional who spends his day in a suit, cufflinks, tie bars, and sleek wristwatches can add a touch of elegance and sophistication. On the other hand, for someone with a more relaxed, casual style, leather bracelets, bead necklaces, or ring bands could be more suitable.
Material is another critical factor when choosing men's jewelry. Gold and silver are classic options that exude timelessness and elegance. Stainless steel and titanium are durable, making them suitable for men who lead an active lifestyle. Leather, on the other hand, has a rustic appeal, making it a perfect choice for casual and rugged looks.
Size is important, especially when choosing rings or bracelets. A piece that is too large or too small can be uncomfortable and may detract from the overall aesthetic. Ensure that the jewelry fits correctly, allowing some movement but not so loose that it risks falling off.
Choosing the right design is also paramount. For a minimalist look, opt for simple, clean lines with minimal embellishments. If the man is more daring with his fashion choices, bold designs with intricate patterns or gemstones might be more appropriate.
Remember, less is often more when it comes to men's jewelry. Opt for one statement piece, or a few subtle pieces that work together, rather than wearing multiple standout items.
Lastly, when choosing jewelry for a man, consider the symbolism and significance. A piece that represents something important — such as a birthstone ring or a necklace with a pendant of a significant symbol — can add depth and personal touch to the jewelry.
In conclusion, selecting men's jewelry involves considering personal style, material, size, design, and symbolism. With these points in mind, you're well on your way to choosing a piece that enhances the man's style, while also giving a nod to his personality and preferences.